Japanese first lady and the Sports Agency commissioner handed sports equipment to underprivileged children through Sport for Tomorrow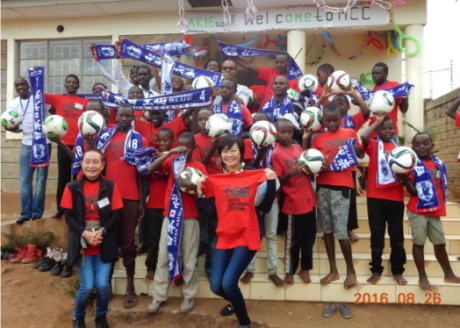 Japanese first lady, Mrs. Akie Abe, and the first commissioner of the Japan Sports Agency, Mr. Suzuki handed sports equipment to children in Africa and Rio respectively through the Sport for Tomorrow programme.
On August 26th, Mrs. Akie Abe visited the Moyo Children Centre in Thika, Kenya and handed thirty soccer balls to the children one by one, while her husband, Prime Minister Shinzo Abe, attended the Sixth Tokyo International Conference on African Development (TICAD VI). The centre is a non-governmental organisation founded and run by a Japanese woman to support children in need.
The children introduced themselves and told about their dreams for the future to Mrs. Abe, and asked her about Japan. Mrs. Abe also played a Japanese traditional game and planted a commemorative tree with them during her visit.
This donation became a reality with the cooperation of the Japan Football Association which kindly prepared the balls at the request of the SFT Consortium Secretariat.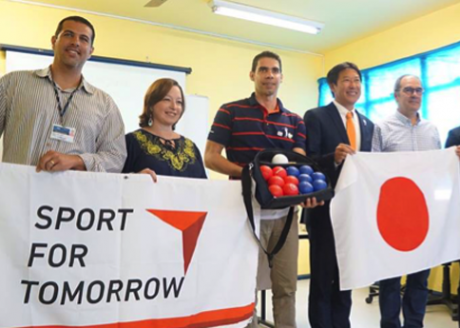 Meanwhile, on September 15th, the first commissioner of the Japan Sports Agency, Mr. Daichi Suzuki, donated 17 Judo uniforms and a set of boccia equipment to children with an impairment at the Development Center on Disability in Rio de Janeiro suburb during the Rio Paralympic Games. The Kodokan Judo Institute, the NPO-Solidarity of International JUDO Education, and the Japan Boccia Association supported this donation.
Mr. Suzuki observed the initiatives for children with an impairment to improve their rehabilitation and physical ability through sports such as judo or boccia at the centre. He said, "These centres helped talent identification for Brazil team for the Rio Paralympics. We will discuss how to develop sports and the environment for the people with an impairment for the Tokyo 2020."
Through the SFT programmes, we have donated sports equipment to developing countries since 2014, and supported more than 25,000 people so far, by connecting the organisations who provide the items and those who deliver them to the local areas.
As the 2020 Tokyo Olympic and Paralympic Games are approaching, SFT will continue to contributing to various countries through sport, as well as further expanding the Olympic and Paralympic movements.