Paralympic Athletes Interview: Tanzania 🇹🇿
Two athletes are participating in the Tokyo 2020 Paralympic Games from Tanzania, Njopeka Sauda in Female Shot Put (F55) and Ignas Madumla Mtweve in Male Discus (F56).
Njopeka Sauda wholeheartedly pursued Wheelchair Basketball ever since she saw it on TV, and only four years since she's become a world class para-athlete. This is her first Paralympic and her dream is to win a medal and improve her skill to continue competing.
Ignas Mtweve has great variety of experience in para sports since age 7, such as swimming, football, shot put and javelin. He started playing Discus with the support of the Tanzanian government which allowed him to compete in Rio 2016. He is excited to be in his second Paralympic Games in hopes to win a medal for his country as he is preparing for his next competition at the African Games 2023. Both athletes were trained by their coach, Bahati Mgunda who studied coaching skills in Germany.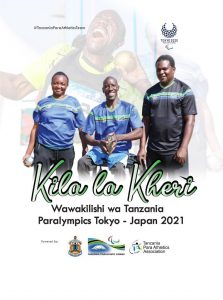 #Tokyo2020 #Paralympics
#NEPP NSSU Expansion of Para sports Participants
#Tanzania Paralympic Committee
Facebook:
https://www.facebook.com/sport4tomorrow/posts/2873670386183714