Paralympic Athletes Interview: Maldives ??
This is first time for Maldives to participate in the Paralympics. Mohamed Mazin is competing in male 100m (T11). After he lost his vision in 2003 at age 18, he started his para sport career in 2011 in long run and switched to 100m in 2019. After two years of hard work with his coach, Abdulla Masood and his guide-runner, Muhammad Saif Zaahir, are very excited to participate in the biggest para sport event ever.
Maldives has joined the training program with Nippon Sport Science University (NSSU) in 2018 and two athletes got tickets to the Tokyo 2020 Games. Mohamed Mazin said "Very thankful for the opportunity given to us. The para sport is not actively introduced to lots of people in our country, and our young athletes need facilities, coaches, and training opportunity." He won the bronze medal in the 2019 Indian Ocean Island Games and competed in the Dubai 2021 Grand Prix. In hopes he will beat his own personal best in Tokyo!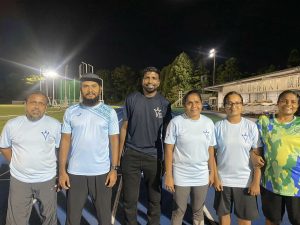 #Tokyo2020 #Paralympics
#NEPP NSSU Expansion of Para sports Participants
#Maldives Paralympic Committee
Facebook:
https://www.facebook.com/sport4tomorrow/posts/2873093529574733